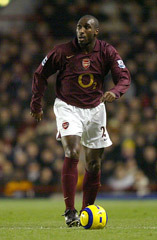 Arsenal boss Arsene Wenger has admitted he is worried for Sol Campbell's wellbeing – and said he does not know when he will next see the player.
Campbell left Highbury before the end of Wednesday's 3-2 defeat to West Ham after being substituted at half-time.
"At the moment I am worried about Sol because he is down," confirmed Wenger. "The reason? Only he can answer."
Team-mate Robert Pires said earlier on Friday that 31-year-old Campbell had a "big worry" in his private life, while Wenger has admitted that he has not spoken to him since the night of the West Ham match.
"He was disappointed by his performance on Wednesday. I had not seen any special problem affecting him," said Wenger.
"There is no bad feeling between us. Does he have a future at Arsenal? Of course. I don't know when I will see him – next week, certainly, but I do not know when.
"I will talk with him but at the moment I am more focused on the game at Birmingham.
"I hope that when he comes back he comes back stronger. It is down to the individual. There is no reason he cannot be the same player."
Pressed further, Wenger tried to play down speculation about Campbell.
But he did add: "We don't want to interfere with the private lives of our players – that's down to them and we respect that. I cannot comment on anything like that.
"At some stage you have to stop talking about it, respect what is happening and focus on what is important for him and the club."
Pires, speaking to a French radio station, said: "He certainly has a big worry on the private side and that is what is upsetting him.
"We want to tell him and make him understand that we are behind him whatever happens. We all have difficult times in our careers.
"It is hard for him to face up to the situation, but he is not alone. He knows that and we have told him so this morning."
Subscribe to World Soccer – The essential football magazine