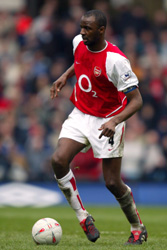 Arsene Wenger is confident Patrick Vieira will stay at Arsenal despite the speculation linking him with a move to Real Madrid.
"I am confident he will stay at Arsenal," said the Arsenal manager.
"I have repeated that before many times. I cannot do much more."
A Spanish newspaper claimed yesterday that the French midfielder had agreed a deal with the Madrid on Tuesday.
But Wenger dismissed the speculation.
"Patrick is highly focused on his job like he always has been. He is very professional.
"We are used to dealing with that (speculation) and I don't think it is disruptive too much because we are isolated from everybody (in Austria).
"We have a great togetherness and great experience to deal with these kind of stories so I don't think at this time it is disturbing."
Vieira's agent, Steve Kutner, also denied a deal had been agreed.
"I can tell you that nothing has been agreed," Kutner said.