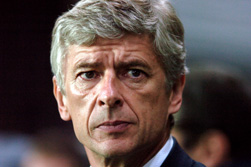 Avram Grant is favourite to be the next Premiership manager sacked as West Ham continue to struggle
Arsenal manager Arsene Wenger has avoided being drawn into a war of words with Patrice Evra after the Manchester United defender stirred tensions ahead of Monday's game at Old Trafford.
Evra suggested Wenger's men had little chance of winning trophies and likened the club to a "football training centre".
Wenger, though, said he had no interest in retaliating.
"He gave you some good stuff to make it all hot before the game," Wenger said during his weekly press conference. "We are guided by the way we want to play football and not by the statements of anybody who plays against us.
"Personally, I believe if you are a big player you always respect your opponent and that is what we try to do."
Asked if Evra had been disrespectful, he replied: "I leave that judgment to you. We do not want to go into any unneeded talking before a game like that.
"We want to focus on the way we want to play and ignore any provocation before a game. We are motivated by the desire to win the game and by the quality of the football we want to play."
Although Evra appeared keen to revive hostilities, the historically frosty relations between Wenger and Sir Alex Ferguson have thawed in recent times.
"It has changed a little bit by the length of the surviving of both managers in their team and there is a respect and understanding of the difficulty of this job," he said.
"That's maybe what you call 'mellowing', but what is important is that it's not Ferguson v Wenger – it's Manchester United v Arsenal.
"What is important is how well both teams will play and all the ingredients are there for an exciting game, that's what we want to produce."
Avram Grant is favourite to be the next Premiership manager sacked as West Ham continue to struggle
Avram Grant is favourite to be the next Premiership manager sacked as West Ham continue to struggle