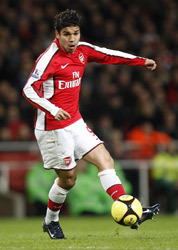 Premier League leaders Man Utd play their game in-hand this Wednesday as Fulham make the trip to Old Trafford.
Arsene Wenger lavished praise on Arsenal striker Eduardo after he completed his return from a broken leg against Cardiff City in the FA Cup on Monday night.
Almost a year to the day when he was carried off having broken his left fibula and suffered an open dislocation of the left ankle in a challenge with Birmingham City's Martin Taylor, Eduardo scored twice as the Gunners beat the Bluebirds 4-0 in their FA Cup fourth-round.
Wenger included the Croatian striker in the Arsenal starting line-up for the first time since he returned to full fitness and the Croat rewarded his manager's faith by netting his first goals since scoring against Manchester City in February last year.
After the game Eduardo was emotional, describing his comeback as "The best day of my life".
He added: "It was a special moment to score, very emotional. I celebrated by kissing my wedding ring – because my wife and daughter and family supported me right through this."
Arsenal boss Wenger described Eduardo as a "mountain" of mental strength, adding: "Everybody is very happy for him. This is the kind of game we love to play, and it was good to see them play with the handbrake off.
"He played a big part in that, and I'm very pleased for him. He made a big step forward in training two weeks ago, and you could see he found his sharpness in front of goal.
"He's been extremely strong mentally. I've never seen one minute of doubt in his mind, not one minute where he said 'I don't want to do this'. He is always wanting more. This guy is small but he has the mental strength of a mountain."
Wenger withdrew Eduardo in the second half after the striker picked up a slight hamstring injury.
"He had a slight tightness of the hamstring, but we expect it will be a small thing," said Wenger. "We'll know at the end of the season how important it [his comeback] is, but I'm very happy to have him back. He can play as a striker, on the flank, behind the striker, up front on his own. That is important for us."
Wenger also explained Eduardo's decision to celebrate his second goal by running straight to the Arsenal support staff.
"Our fitness coach spent more time with him than with his wife," he said. "He deserved that hug, as did the physios and the doctors – they all did a tremendous job. They spent a lot of time with Eduardo.
"We get to use him when he is ready, but they all did a great job with him."
Premier League leaders Man Utd play their game in-hand this Wednesday as Fulham make the trip to Old Trafford.