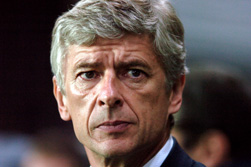 Win FREE tickets to the Cheltenham Festival as well as up to £1,000 in FREE BETS. Click here for more info!
Arsenal manager Arsene Wenger has spoken of the "horrendous" spell his club have endured after their 2-1 aggregate defeat to PSV Eindhoven put them out of the Champions League.
In the space of 11 days Arsenal have lost the Carling Cup final, been knocked out of the FA Cup and been eliminated from Europe.
He said: "There are a lot of positives but the two weeks have been horrendous.
"We can only think we played the game we wanted to play but we didn't take our chances. It's cruel.
"I don't feel we failed in the Carling Cup. We're out of the FA Cup and that was a big disappointment, but it is minor compared to this.
"Now we have to secure a place in the Champions League because we have a responsibility to finish as high as we can and try to overtake Liverpool.
"We lacked a bit of sharpness and of course we lacked a bit of quality in the final third."
To compound Arsenal's woes, skipper Thierry Henry suffered stomach and groin injuries shortly afetr coming on as a substitute against PSV.
Wenger has confirmed that Henry will now be out for a month.
Eindhoven defender Alex – ironically on loan from Arsenal's rivals Chelsea – gave Arsenal the lead with an own goal on Wednesday, but then headed a late equaliser to send PSV through 2-1 on aggregate.
Wenger said: "Alex won PSV the tie alone, which is only a bit of an exaggeration.
"He kept their defence very tight and saved them every time. He made the difference at set-pieces and dominated our players in the air easily.
"Chelsea have the money to buy the best players – that's not new information.
"I don't know the rules and I don't think he's the only player Chelsea own like that."
PSV coach Ronald Koeman paid tribute to the performance of Alex.
He said: "He's one of the best central defenders there is and it's incredible he plays for a team like PSV.
"He's Chelsea's player and PSV rent him from Chelsea because he's still not allowed to play in England.
"We're proud he plays for us but know it won't be for much longer.
"He can play against Chelsea in the next round because he's at PSV until the end of the season.
"After that we'll talk to Chelsea about his situation. It was an agreement with Chelsea that he stays with us for the season.
"I think Chelsea will be very happy Alex scored tonight."

Win FREE tickets to the Cheltenham Festival as well as up to £1,000 in FREE BETS. Click here for more info!