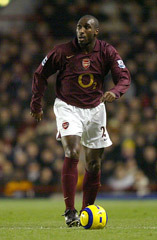 Arsenal manager refused to condemn his Sol Campbell after the Arsenal defender stormed out of Highbury following his half-time substitution during the 3-2 defeat by West Ham.
The 31-year-old Gunners defender was at fault for both of West Ham's opening goals on Wednesday.
"You always want your players to stay but there are exceptional circumstances where you can understand what he did," said Wenger.
"He did not do it meaning disrespect to the club or to the team."
Campbell mis-kicked his attempted clearance to allow Nigel Reo-Coker to run through and put the visitors ahead in the 25th minute.
Not long afterwards, Campbell was brushed aside by Bobby Zamora who put West Ham 2-0 ahead.
At half-time Wenger replaced the England centre-half with Sebastian Larsson, who made his Premiership debut.
However, Wenger refused to criticise Campbell for walking out of the club at the interval.
"He was very down at half-time and he felt guilty," added the Frenchman.
"We wanted to fight for him in the second half. It was not a disaster being 2-1 down.
"I took him off because he was in a mental shape – I felt he was too much down to come back.
"I knew it would be better for him personally, I felt. He was very, very down and that is the only issue.
"His confidence is not the highest at the moment."
Subscribe to World Soccer – The essential football magazine