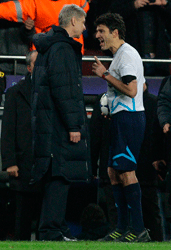 Simon Hopper is tipping Braga to get a result against Liverpool in the Europa League tonight – see his full preview here…
Arsenal manager Arsene Wenger has denied his charge of improper conduct and has called on UEFA to 'show some humility'.
The Frenchman is still angry at his side's UEFA Champions League defeat to Barcelona on Tuesday.
Arsenal were eliminated from the last 16 of the competition after a 4-3 aggregate defeat and a 3-1 loss on the night at Camp Nou, but the match was marred by the controversial second-half sending off of Robin van Persie.
Wenger was furious that referee Massimo Busacca showed his striker a second yellow card for shooting at goal just a second after the whistle had been blown for an offside decision.
The Arsenal boss confronted Busacca after the match and, along with Samir Nasri, has been charged by UEFA for using 'inappropriate language', but he has subsequently said: "I deny completely any charge. I do not understand where that comes from.
"It is a shame for me that the referee took the decision to send Robin van Persie off. It was the wrong decision.
"The first leg was a fantastic advert for football and the second game has been destroyed. People now will only remember the sending off.
"It would be good for UEFA to show some humility, to apologise for what has happened, not charge people who have done nothing wrong."
Simon Hopper is tipping Braga to get a result against Liverpool in the Europa League tonight – see his full preview here…
Take advantage of the sales by saving up to 36% on a subscription to World Soccer