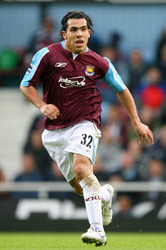 Help us with a Sport and Betting Survey! Click here to take part now.
West Ham chairman Eggert Magnusson is confident the Premier League will take no further action against the club over the Carlos Tevez saga.
The Hammers were fined £5.5million last month following a hearing into the transfers of Carlos Tevez and Javier Mascherano, but to the dismay of their relegation rivals, they were not docked points.
Tevez was also cleared to continue playing for West Ham, but relegation rivals Wigan, Sheffield United, Charlton and Fulham have threatened legal action over the Premier League's stance.
Magnusson admits he can understand the concerns of rival clubs, but is happy that the battle to stay in the Premiership will be determined on the field.
"It is the Premier League that has stated that everything is okay and that Carlos Tevez can play until the end of the season, so for me that is clear," he told Sky Sports News.
"We are with some clubs in a relegation battle and people are worried, I understand that.
"From my point of view the decisions about who is champions and who is relegated should be decided on the pitch. That is where points are taken and that is where you lose points.
"It is completely in the hands of the Premier League and I trust them 100 per cent."
Wigan chairman Dave Whelan has suggested that Tevez is still owned by his agent Kia Joorabchian, but Magnusson insists that is not the case.
"I have not had any conversations with Kia Joorabchian about that," added Magnusson. "He was here at the game on Saturday but we just talked about the game.
"From the club's point of view there has never been any doubt that his registration, and also Mascherano's, were okay.
"They (the documents) are in order and they have been approved by the Premier League," he said.
Help us with a Sport and Betting Survey! Click here to take part now.