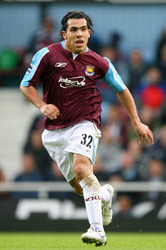 West Ham United have dismised claims made by Kia Joorabchian, the agent representing Carlos Tevez, that the London club had gone back on a private agreement to sell the player.
Tevez is hoping to secure a move to Manchester United and his agent Joorabchian released a statement on Wednesday claiming The Hammers had reneged on previous promises.
The London club have now responded to Joorabchian's comments and insist Tevez is under contract Upton Park for a further three years.
"West Ham United totally rejects the latest outburst and threats issued in the name of Kia Joorabchian in relation to the situation regarding Carlos Tevez," read a club statement.
"We will not be drawn into this form of public mudslinging, but these latest statements cannot go unanswered.
"Mr Joorabchian entered into agreements with the previous regime at West Ham United at a time in which he was attempting to take over the club. Those arrangements, since terminated by West Ham United, led the club into serious disciplinary difficulties for which the club has paid a heavy price.
"It is absolutely clear that the only contract relating to Carlos Tevez recognised by West Ham United and the Premier League is the player's four-year contract which runs until June 2010. All other arrangements were terminated by West Ham on 27th April 2007 and no legal challenge to that termination has occurred."
Meanwhile, the club have confirmed that they are happy for Fifa to adjudicate on Tevez's proposed transfer to Old Trafford.
The statement continued: "The club has in recent weeks made every effort to keep Carlos Tevez at West Ham United and indeed offered significantly improved terms and conditions to the player, which were not accepted.
"However, a transfer of a properly registered player cannot occur without agreement between two clubs and the Premier League.
"Without such an agreement we believe that it is in the interest of all parties to resolve this issue as quickly as possible through the procedures laid down by Fifa.
"Public threats and accusations are irrelevant, let Fifa decide and West Ham United will accept that judgement whatever the outcome. The time has come to settle this matter in a way which will allow everyone concerned to move on."