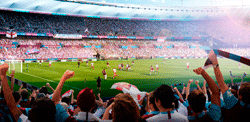 Dan Billinghurst is tipping Man City to cause an upset when they travel to Man United on Saturday…
West Ham have won the backing of Olympic bosses in the battle for the 2012 stadium, according to reports in the UK media.
Olympic Park Legacy Company (OPLC) executives have decided the offer from the club – which would retain the athletics track – is preferable to Tottenham's rival bid.
The OPLC board are expected to announce the Hammers as preferred bidder on Friday.
The government and London's mayor will take a final decision but are expected to back the OPLC's recommendation.
An OPLC spokesman denied that a final decision had been made, saying: "It is pure speculation to say that a decision has been made.
"Our board meets on Friday. There will be presentations by OPLC officers of both bids and a vote to recommend a preferred bidder."
West Ham are committed to keeping the the athletics track in the stadium and for the venue to be used for a variety of sports and concerts.
Tottenham's plans were to dismantle the stadium in Stratford and build a new football ground in its place, while renovating the existing athletics stadium at Crystal Palace.

Dan Billinghurst is tipping Man City to cause an upset when they travel to Man United on Saturday…
Take advantage of the sales by saving up to 36% on a subscription to World Soccer