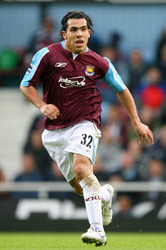 Help us with a Sport and Betting Survey! Click here to take part now.
Wigan chairman Dave Whelan says he may sue West Ham and the Premier League after their relegation rivals were only fined for fielding ineligible players.
Whelan believes West Ham escaped lightly with the £5.5m fine for playing Javier Mascherano and Carlos Tevez.
"This is a very serious offence West Ham committed," said Whelan. "They broke the law, told blatant lies and should have got a 10-point penalty.
"If we can sue West Ham or the Premier League, I am sure that will happen."
With two games remaining, the two clubs are separated by goal difference with Wigan one place above the Hammers.
Whelan added: "Justice would be West Ham being one of the two clubs that still has to go down, but justice has so far not been served in this case.
"If there was any action taken by the bottom six clubs that are in danger of going down, I'd be a big supporter of that action.
"I think the bottom six will stick together and take action together whichever two clubs go down, if West Ham aren't one of them.
"If any action is taken I think it'll be in the next 14 days and I'll support any action that the clubs want to take.
"The chairmen and chief executives have all spoken and two, maybe three clubs are in the process of taking legal advice, Wigan being one of them.
"Would we sue the league? We don't know whether we could. Would we sue West Ham? Again, we need to find out whether we can."
Whelan also says the Premier League needs to reviiew the way it handles such matters.
"The Premier League is in a bit of turmoil because the officials and the clubs all know what happened was not right," said Whelan.
"I have no anger with West Ham or their supporters. They are a great club and get very well supported.
"But the Premier League have handled this in a very poor manner and I think it should have been passed on to the Football Association for them to sort it out."
Help us with a Sport and Betting Survey! Click here to take part now.