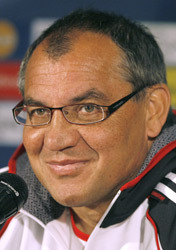 Man City travel to Chelsea in the Premiership game of the weekend – see the best odds on every market here…
Felix Magath will return to coach Wolfsburg almost two years after leading them to the Bundesliga title and just two days after his departure from Schalke 04.
Magath left Wolfsburg after winning the title to take the reins at Schalke, but the Wolves have dropped to second from bottom in the table since firing Steve McClaren. Under Pierre Littbarski, his assistant and successor, the 2009 champions had lost four of five games.
Wolfsburg, who are three points ahead of bottom-placed Borussia Moenchengladbach, are expected to officially unveil Magath at a press conference later on Friday, where he will finalise the deal by penning an expected two-year contract, according to Bild.
"Nothing has been signed yet because there was no time for it, but I think I will be there until 2013," Magath said.
"Everything went so quickly, but I am sitting in my car now driving to the place where I celebrated the greatest success of my career."
Man City travel to Chelsea in the Premiership game of the weekend – see the best odds on every market here…
Take advantage of the sales by saving up to 36% on a subscription to World Soccer