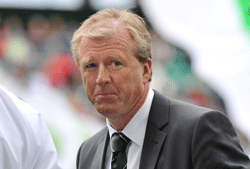 West Ham are a best price evens to be relegated after their 1-0 defeat to Birmingham on Sunday
Steve McClaren has been sacked by Wolfsburg after a string of poor results. The former England manager leaves the club 12th in the Bundesliga, and has been replaced by his erstwhile assistant, Pierre Littbarski.
"We were no longer convinced, that working together with Steve McClaren we would be able to end the season in a stable manner," said Dieter Hoeness, the club's sporting director.
"After the latest negative results as well as the poor first half of the season we could not in any way underestimate our position in the table.
"With only one point above the relegation zone, we were alarmed."
McClaren cut a forlorn figure on the touchline during Saturday's 1-0 defeat to Hannover. The former England coach looked on in dismay when, after his side had been awarded a penalty kick with ten minutes remaining, playmaker Diego grabbed the ball from designated taker, Patrick Helmes, and blasted his spot kick against the bar.
Despite spending large amounts of money, most recently in January when reinvesting funds from the sale of Edin Dzeko to Manchester City, McClaren could only guide Wolfsburg to 12th position in the league.
In 21 games in charge at Wolfsburg, McClaren managed just five wins.
West Ham are a best price evens to be relegated after their 1-0 defeat to Birmingham on Sunday
Take advantage of the sales by saving up to 36% on a subscription to World Soccer