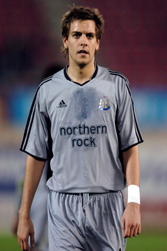 Man Utd have won nine & drawn two of their last eleven clashes with Spurs. Click here for the latest odds!
Defender Jonathan Woodgate and midfielder Kieron Dyer have been recalled to the England squad for the friendly against Spain at Old Trafford on Wednesday.
England coach Steve McClaren also named uncapped Manchester City midfielder Joey Barton in an England squad for the first time on Friday and brought Aston Villa midfielder Gareth Barry, who last played for England in 2003.
Woodgate currently on a one-year loan with Middlesbrough on a one-year loan, after being plagued by injuries in his two-year stay with Real Madrid.
"He's somebody that has proved himself at international level," McClaren said of the 27-year-old Woodgate.
"He has that pedigree but unfortunately it has never been brought to fruition because of injuries over the last three years," the coach told Sky Sports News.
"They have been devastating for the player but it shows the kind of character he's got to have come through that and start playing at the level he's doing. He's a fantastic player who can come out of defence and create."
Like Woodgate, Dyer has struggled with injuries since he last featured for England in March 2005 but McClaren believes he is back to his best.
"I've always admired Kieron and this is a great opportunity after a couple of years in the wilderness," McClaren said.
"Kieron is one of those attackers with pace who can beat players and create. He's doing that for Newcastle and he's done it for England before. We'll see how he's shaping up."
Barton's selection comes on the back of the midfielder criticising established England internationals for publishing autobiographies following the disappointing World Cup campaign.
"That will not be an issue," McClaren said.
"That's the beauty of England. They can be rivals on a Saturday and play against each other and hate each other but when they come to play for England it's a common cause.
"He's been playing well and has forced his way through. I've always thought he was a very good player, England potential. It's one of those unknowns until he is thrown into the den to prove himself. He has earned the right to be picked."
Man Utd have won nine & drawn two of their last eleven clashes with Spurs. Click here for the latest odds!