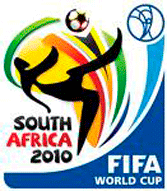 Can England get off to a winning start in Group C against USA? Simon Hopper previews the World Cup betting.
Group C
England v USA
Royal Bafokeng Stadium – Rustenburg
Kick off: 19:30pm BST
England and the USA's special relationship will be put to one side as they open their 2010 World Cup campaigns by going head-to-head in Rustenburg tonight, with a win for either team giving them the inside rail in the race to finish top of Group C.
South Africa's fastest-growing city is situated 1,500m above sea level on the northern tip of the Highveld Plateau, and the altitude could prove to be a factor in the cool evening air at the recently-upgraded Royal Bafokeng Stadium.
England's overall record of seven wins in nine matches against tonight's opponents is a good one, and they have won the last three encounters. But the run-up to the game has been dominated by talk of 1950, when the USA's team of part-timers produced one of the biggest shocks in World Cup history: a 1-0 victory in Brazil over an England team touted as the best in the world. It is the only previous competitive match between the two nations.
"1950 is a big moment in US soccer history, and victory here would certainly be right there on a par with it," USA coach Bob Bradley told the press in the build-up to the game.
"But it wouldn't be a surprise like some of the victories in the past. We've earned more and more respect over the years. We prepare for every team properly and we have a great amount of respect for England. But, on the inside, we feel good about the way we've grown as a team and we've been looking forward to this opportunity since the draw. It will take a strong, strong effort on our part but we go out on to the field to win."
Consistent progress
The national team has shown steady and consistent progress since the USA was chosen to host the 1994 World Cup. A high percentage of their 23-man squad have either current or past experience of playing European club football, and the birth of Major League Soccer in 1996 dramatically improved the organisation and standard of the domestic game.
In 2002 the USA won the Gold Cup and then reached the quarter-finals of the World Cup in Japan and Korea, so much was expected from their Germany 2006 campaign – but it ultimately ended in disappointment with a first round exit. They bounced back in style last summer at the Confederations Cup, where they finished as runners-up to Brazil. Their run to the final included a semi-final defeat of Euro 2008 winners Spain, who up until that point had won 15 consecutive matches and were undefeated in 35 games.
So can they transfer the momentum from last year into a successful run at the 2010 World Cup, starting today with a positive result against England? A quick look at their recent form is inconclusive. Their final two warm-up games have brought wins over Turkey and Australia, but these were preceded by a string of unconvincing performances that included a 4-2 defeat by the Czech Republic and a 3-1 humbling by Honduras, both at home. They have also failed to keep a clean sheet in their last ten matches.
The team itself boasts a wealth of talent and experience in defence and midfield, and Bradley will look to take advantage of this by pressing and disrupting England all across the pitch. And most of the squad will know England's players inside out – if he wanted to, Bradley could name an entire starting XI from players with experience of British club football. The presence of his gifted son Michael in midfield will ensure this doesn't happen, but there won't be any surprises that England coach Fabio Capello can spring on his opposite number this evening.
Bradley has confirmed that Jozy Alitdore will line up as his main striker, and he will be hopeful that the man who spent last year mainly disappointing on loan at Hull City can recapture some of the form that prompted a big money move from New York Red Bulls to Villarreal in 2008. If the USA do have a weakness it is in their lack of quality up front, and Altidore will probably be asked to play as a lone striker. Star men Landon Donovan and Clint Dempsey, both of whom excelled for Everton and Fulham repsectively in the English Premier League last season, will be asked to get forward and support him as much as possible. Bradley will also be hoping that Oguchi Onyewu's rehabilitation from a long term knee injury sees the AC Milan defender fit enough to make the team.
England transformed
England were transformed by the appointment, in January 2008, of Capello. They recovered quickly from a failure to qualify for Euro 2008 under the Italian's predecessor, Steve McClaren, to stroll through World Cup qualifying and confirm their finals place with two games to spare. That qualification campaign included two crushing victories over Croatia, 4-1 in Zagreb and 5-1 at Wembley, and helped England to record an average of 3.4 goals per game – the most of any of the 32 World Cup finalists.
The optimism generated by this run amongst fans and the media has been stifled slightly in recent months, due to injuries and performances in friendlies that have failed to match the heights of qualifying.
Captain Rio Ferdinand's appearances for Manchester United and the national team were limited in the run-up to the finals and he will miss the tournament because of a recent knee injury. Chelsea's Ashley Cole – arguably the world's best left back – only returned from injury in the final weeks of the Premier League season, and Capello has also been sweating on the fitness of key midfielder Gareth Barry. Barry passed a last-minute fitness test on an ankle injury to make the final 23-man squad, but he is likely to start on the bench tonight.
These injury woes and the off-field problems that led to Capello stripping John Terry of the captaincy have disrupted England's preparations. This disruption has been reflected in England's patchy performances during 2010. They have won all three of their games, but none convincingly, and their final warm-up match against Japan came courtesy of two second half own goals.
Yet England remain third favourites with the bookmakers – behind only Spain and Brazil – to lift the World Cup, and Capello still has plenty of top class players throughout his squad. Wayne Rooney and Frank Lampard have both enjoyed fine seasons at their clubs and, along with Ashley Cole and the new captain Steven Gerrard, would walk into any squad in the world.
Add top experienced pros like Terry, Barry, Ledley King and Peter Crouch, and improving youngsters like Aaron Lennon, James Milner and Glen Johnson, and England's blend of players looks a well balanced one. Gerrard has endured a difficult season with Liverpool but will be looking to seize the opportunity to end the season on a high.
There has been plenty of pre-tournament talk as to what Gerrard's role in the team will be. His excellent relationship with Rooney on and off the pitch has prompted calls for him to be deployed just behind the Manchester United striker, but with Barry unlikely to be fit to start tonight's game it is probable that Capello will position him further back, on the left side of midfield, and choose either Emile Heskey or Crouch as a partner for Rooney.
King is almost certain to start the tournament as Terry central defensive partner in Ferdinand's absence. The position of goalkeeper is the one that's been hotly debated. There has been no obvious number one over the last few months, and David James, Joe Hart and Robert Green all possess a fighting chance of being named as the starter.
The pressure placed on Capello, based on his impressive CV and his massive salary, is high. He will be expected to get England past the quarter-final stage for the first time in 20 years, and only the second time in their history. In a rare moment of candour earlier in the week he told the press how he is coming to terms with the demands of the job and revealed that his players are raring to go.
"This tournament is different," he said.
"Being the manager with England is not like being a club manager. If you lose two games with your club, you can recover. Here, it is in or out."
"I am a normal man, but my job is important. It is fantastic, exciting and tough. Behind me there is a whole country. For a month we have to live with policemen, press conferences every day, TV, everything at every moment. You switch on the television and it is all about the World Cup. I have to live with this pressure. It is not easy."
"But I think the players are really happy at this moment – physically and mentally. We've had nine days of real focus on this game and we're sure we will go forward in this competition. On Saturday, more than anything, I want to see the spirit of the team – the English spirit – that I saw during qualifying."
Teams:
England (possible): Green; Johnson, Terry, King, A Cole; Lennon, Lampard, Carrick, Gerrard; Heskey, Rooney
USA (possible): Howard; Spector, DeMerit, Onyewu, Bocanegra; Donovan, Bradley, Clark, Feilhaber, Dempsey; Altidore
Referee: Carlos Simon (Bra)
By Mark Robinson
To visit Mark's blog, Two Yellow Cards, click here
Can England get off to a winning start in Group C against USA? Simon Hopper previews the World Cup betting.
Make sure you don't miss any of the last news and articles from World Soccer. Subscribe to World Soccer today and take advantage of our all 50th anniversary offer, saving up to 50%!