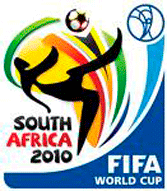 2010 World Cup Podcast: Throughout the tournament we'll be speaking to leading football pundit Angus Loughran – hear his day one views here!
Group F
Italy v Paraguay
Green Point Stadium, Cape Town
Kick off: 15:00pm BST
Champions Italy begin the defence of their title this evening with a meeting against South American qualifiers Paraguay, in what looks to be the pick of the games on day four at the 2010 World Cup from South Africa.
The impressive new Cape Town Stadium is the venue, where over 69,000 fans will be in attendance to see if the Italians can extend their unbeaten run over their opponents to three games. Their previous encounters both resulted in wins for Italy: 2-0 at the 1950 World Cup and 3-1 in a 1998 friendly.
Italy's last two World Cup victories – 1982 in Spain and 2006 in Germany – both showcased their ability to improve as the tournament progresses and peak at the right time. However, their reputation of being slow to get out of the blocks isn't entirely justified. They have suffered only one defeat (to Ireland at USA 1994) in their 12 World Cup openers.
Their winning coach from 2006, Marcello Lippi, returned to the job ahead of the qualifiers after taking a two-year break from football. His successor, Roberto Donadoni, was sacked after Italy were knocked out in the quarter-finals of Euro 2008 by eventual winners Spain. Lippi was greeted by the vast majority of the population as a returning hero, but it hasn't all been plain sailing.
Too loyal
Throughout the qualifying campaign the 62 year-old coach was accused of being too loyal to the more senior players in the squad, who had been instrumental in the 2006 victory. Fans and press voiced concerns that his faith in them was to the detriment of the longer-term progress of the Azzurri, with some exciting and talented youngsters not being given enough opportunities to develop ahead of this World Cup.
While this was true throughout a laboured qualification campaign and a poor performance at the 2009 Confederations Cup, Lippi's final 23-man squad has answered some of these critics. Some of the older, over-30 brigade did make the final cut, such as Fabio Cannavaro, Gianluca Zambrotta, Gennaro Gattuso and Mauro Camoranesi, and are likely to play major roles in South Africa. But Lippi also displayed a ruthless streak by leaving Luca Toni, Alessandro Del Piero, Francesco Totti and Fabio Grosso at home.
He has used Italy's friendly matches this year to blood some of their younger replacements but the results have been poor. Has Lippi's mini overhaul of the squad come too late? Have the new breed been given enough experience ahead of the major demands of a World Cup? They have failed to win in three friendlies this year, all against fellow qualifiers – there have been draws against Cameroon and Switzerland, and a poor 2-1 defeat by Mexico in between. So the Italians will start tonight's opener with plenty of questions to answer.
Lippi's selection plans for this game have been disrupted by an injury to Andrea Pirlo, his key deep-lying midfield anchor and the fulcrum from which Italy's attacks mostly originate. The AC Milan star has been ruled out of this first match with a calf injury and is also reportedly struggling to be fit for the second group stage match against New Zealand next weekend. As a result Lippi is likely to line up his players in a 4-3-3. Daniele De Rossi, Gennaro Gattuso and Claudio Marchisio are likely to fill the midfield berths. Marchisio has enjoyed a fine season despite Juventus' struggles and is seen as one of the brightest prospects amongst the new generation. He has energy, competitiveness and elegance in abundance, and his left foot also helps to give the Italian midfield balance.
In contrast, his Juventus teammate Giorgio Chiellini has really struggled at the heart of Juve's defence but he will keep his place alongside Cannavaro. They will be probably be flanked by the veteran right-back Zambrotta and, on the left side, by Genoa's Domenico Criscito – Grosso's long-term replacement. This back four will be propped up by Gianluigi Buffon, who has struggled with injury this season but remains one of the world's finest goalkeepers.
Fiorentina's Alberto Gilardino is now the undisputed number one in terms of the central striker, and he will be supported from the wings by the veterans Camoranesi and Antonio Di Natale. Di Natale, a late developer if ever there was one, has just enjoyed the finest season of his career, finishing 2009/10 as Serie A's top scorer with 29 goals and breaking Udinese's club record that was previously held by Oliver Bierhoff.
"I can tell you there is a great will to do well in the tournament ," Lippi told the press on the eve of the opening game.
"The scepticism I respect, although I don't agree with it because it comes from just two friendly matches. It's part of a programme we had and that we knew would lead us here. They were not crucial. I don't know what the scepticism is due to. I won't deny that injury prevented me doing certain experiments, but I assure you the team are ready to play a great match. There are no doubts about our preparation."
Toughest test
His opponents tonight are entering their fourth consecutive World Cup – and eighth in total – and will probably provide the Italians with their toughest group stage assignment. Paraguay defeated Brazil, Argentina and Chile in South American qualifying, where they finished just a point off top spot. Their last two warm-up matches, a battling 2-2 draw with Ivory Coast and a 2-0 win over Greece, will have given their Argentine coach Gerardo Martino further grounds for optimism.
Martino was a popular appointment amongst Paraguayans, despite his nationality, after winning Paraguayan league titles with Libertad and Cerro Porteno. The belief back home is that his squad is one of the most talented in the national team's history and it should be capable of qualifying for the knockout phase for the fourth time.
Martino's group of strikers is certainly up there amongst the tournament's best, even allowing for the absence of Salvador Cabanas. He was the team's leading scorer in qualifying but was shot in the head in Mexico City earlier this year and has spent the last few months fighting for his life and in recovery. It was a tragedy that has brought the squad closer together, and whatever they achieve in South Africa will be done with their stricken teammate in their thoughts.
Roque Santa Cruz, Nelson Haedo Valdez, Oscar Cardozo and Lucas Barrios still give Paraguay numerous threats in the final third of the pitch. Santa Cruz has much to prove after injury ruined his debut season with Manchester City following a big money move there last summer. He has looked sharp in the warm-up games, and if he can stay fit his freshness could be a factor. With Cardozo likely to start on the bench this evening as he continues his rehabilitation from an ankle injury, Santa Cruz will probably be partnered by Barrios. Like his coach, Barrios was born in Argentina, but he now holds Paraguayan citizenship and has made a prolific start to his international career with his adopted country.
One of the bigger calls Martino must make is whether to start the reliable, converted centre-half Dario Veron at right-back or opt for the more popular, attack-minded Carlos Bonet. Selecting the latter would probably also mean a place for defensive midfielder Victor Caceras, who would offer crucial protection for the defence as cover for Bonet's overlapping on the right, and that of Claudio Morel Rodriguez from left-back. The midfield is generally hard working and functional rather than flashy, leaving the headlines to be made by the full-backs and the strikers. Their solidity is illustrated by the fact that Paraguay kept nine clean sheets during qualification.
"We're all extremely keen and very enthusiastic, the same as the people of Paraguay are," Barrios said on Sunday.
"We really hope we do a good job in the World Cup and I hope our first game is good. We respect Italy, of course, but when it comes down to it we will try to take three points. Tomorrow is not decisive, but certainly it would be good to win the match. The entire team is very united and we really want to rise to the challenge at the World Cup."
Teams:
Italy (possible): Buffon; Zambrotta, Cannavaro, Chiellini, Criscito; Gattuso, De Rossi, Marchisio; Camoranesi, Gilardino, Di Natale
Paraguay (possible): Villar; Bonet, JC Caceres, Da Silva, Morel Rodriguez; Vera, Barreto, V Caceres, Riveros; Santa Cruz, Barrios
Referee: Benito Archundia (Mex).
By Mark Robinson
To visit Mark's blog, Two Yellow Cards, click here
2010 World Cup Podcast: Throughout the tournament we'll be speaking to leading football pundit Angus Loughran – hear his day one views here!
Make sure you don't miss any of the last news and articles from World Soccer. Subscribe to World Soccer today and take advantage of our all 50th anniversary offer, saving up to 50%!