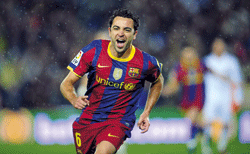 Steve Kean is the bookies favourite to be the next Premier League manager sacked – latest betting here…
Barcelona midfielder Xavi Hernandez is set to win his 100th cap for Spain when the world champions resume their 2012 European Championship qualifying campaign on Friday.
Xavi, lauded as one of the world's best midfielders, will become only the second Spanish outfield player to reach a century of appearances, after striker Raul Gonzalez.
"During the World Cup, I realized I was close (to 100) and, if the coach wanted, it would happen," Xavi said. "I didn't ever consider playing 100 games (for Spain) until very recently. And it is very exciting."
Xavi has no plans to retire from the national side and has not ruled out continuing until the World Cup finals in Brazil in 2014.
"I don't know, 100 more and I stop?" he told El Pais newspaper. "Seriously, while they want me they can count on me. For the moment, I am thinking about the Euros, but maybe I will make it to Brazil (for the World Cup in 2014). That wouldn't be bad, would it?"
Xavi's Spain teammate Fernando Llorente said he was just happy to be on the same pitch as him.
"An incredible player, among the best Spanish players of all time," Llorente said. "He is achieving everything in the world of football – for Barcelona and the national team, he is winning everything and it is amazing to see him play all these years at this level."
Steve Kean is the bookies favourite to be the next Premier League manager sacked – latest betting here…
Take advantage of the sales by saving up to 36% on a subscription to World Soccer