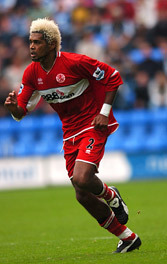 Middlesbrough defender Abel Xavier is expected to make a statement today following his positive drug test.
The 32-year-old Portuguese defender is expected to confirm whether he will contest the positive result following Boro's Uefa Cup match against Xanthi on 29 September.
Xavier has been suspended from all competitions by Fifa – pending "the outcome of a disciplinary investigation".
The substance for which the Portuguese player tested positive is not known, although it is understood that the stimulant involved was not recreational and that Xavier is protesting his innocence to the club.
Xavier is believed to have been taking a supplement imported from the United States to treat a virus.
Middlesbrough would confirm only that Xavier had failed one test but a Uefa spokesman said: "The next step would be to examine the B sample. If that was positive, he would face sanctions laid out in the protocol passed between Fifa and Wada (World Anti-Doping Agency). They would look to whether there is any precedent, whether he has done it before and the gravity of the situation."
Xavier has played for Boro in the Premiership since the positive urine sample was taken, in the club's 3-2 win at Aston Villa on 2 October.
The former Liverpool and Everton player signed a one-year deal for Middlesbrough on transfer deadline day, 31 August. Much travelled – he has played in Italy, Spain, Turkey and Holland as well as Portugal
Xavier, who has 20 international caps for Portugal, has attracted controversy before having been suspended by Uefa following his outburst during Portugal's defeat by France at Euro 2000.
Gordon Taylor, the chief executive of the Professional Footballers' Association, says the players' union will back Xavier.
"It is a Uefa case and not a domestic one but he is one of our members, so we have to stand by him," he said. "We have always made our members and the club doctors aware of our position."