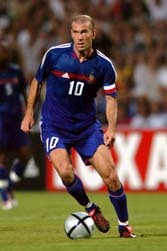 Zinedine Zidane has yet to make up his mind about his retirement date, saying he is still considering playing until 2007.
"I still have six months or maybe a year (left). At the best I have a year and a half," Zidane said on his website.
"I'm closer to the end than the beginning."
The 33-year-old originally intended to fulfill his contract at Real Madrid, which would have seen him retire in June 2007. However, he recently hinted he may hang up his boots after the World Cup finals this summer.
"We have the team and we have the guys to do something great there. We will have to prepare ourselves very carefully to be ready," Zidane said.
"France will be a very competitive side if we are at 100 per cent. There is no doubt about that," he said.
France face Switzerland, South Korea and Togo in Group G at the finals in Germany.
Subscribe to World Soccer – The essential football magazine