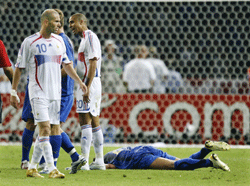 France playmaker Zinedine Zidane has won the prestigious Fifa Golden Ball award at the World Cup finals.
The award comes despite Zidane being sent off for headbutting Marco Materazzi during France's World Cup final defeat to Italy.
He was not allowed to pick up his loser's medal, instead he spent the medal ceremony left alone with his thoughts in the French dressing room.
Zidane polled 2012 points in the vote by journalists covering the tournament, beating Italians Fabio Cannavaro (1977 points) and Andrea Pirlo (715 points) in the ballot.
On Sunday, he put France ahead from the penalty spot but was sent off after his assault on Materazzi's during the second period of extra-time. It was to be his last act as a professional player.
Other nominees for the Golden Ball award were Maniche (Portugal), Michael Ballack (Germany), Gianluca Zambrotta (Italy), Thierry Henry (France), Gianluigi Buffon (Italy), Patrick Vieira (France) and Miroslav Klose (Germany).
Germany goalkeeper Oliver Kahn won the Golden Ball in 2002. Other previous winners were Brazilians Ronaldo (1998) and Romario (1994), Italy's Salvatore Schillaci (1990), Argentine legend Diego Maradona (1986) and Italy's Paolo Rossi (1982).
Germany striker Miroslav Klose was the Golden Shoe winner for the tournament's leading scorer, while Italy's Gianluigi Buffon collected the Lev Yashin award for the competition's top keeper. The Fair Play award was shared between Brazil and Spain who both picked up 886 points from the 1000 available.