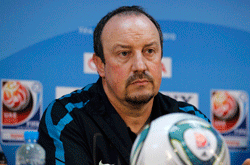 Football betting expert Gavin Beech is tipping a low scoring encounter when Northern Ireland play Scotland tonight…
Former Inter coach Rafael Benitez has blamed a lack of support from the club in the summer transfer window and their intransigence over injuries for his early exit.
Benitez was sacked from the European champions in December after a poor start to the season, but has sought to give his side of the story.
"I want to show some statistics based on the injuries so I am not misunderstood: 80% of those injured had the same or similar injuries in the previous two years," Benitez told Marca. "Myself and my staff did not have control over medical issues or the work of the club medic and his athletic coach.
"We did not follow therapies or recoveries. And, a month after we left Inter there were eight muscular injuries. I am sure Roberto Mancini [former Inter coach] is familiar with all of this."
Benitez criticised the lack of backing from the board while still in charge, and claimed that he had laid out a strategy, which he was never allowed to implement.
"Massimo Moratti knew we worked with difficulty," he continued. "Some players performed, others didn't. He knew things were not going well, but there were no conditions to carry on. So we arrived at the recession. had started well, but then things changed, internally too.
"Opinions always changed. I don't know why there was no summer transfer market and I was surprised. They had asked me for a project to improve the squad … I wrote things down and the directors liked it, but then nothing happened."
Football betting expert Gavin Beech is tipping a low scoring encounter when Northern Ireland play Scotland tonight…
Take advantage of the sales by saving up to 36% on a subscription to World Soccer