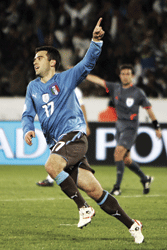 They may have departed the Confederations Cup in South Africa sooner than most people expected, but at least Italy went home with a new youngster to give them hope when they return to defend the World Cup next year.
As a boy in Teaneck, New Jersey, Giuseppe Rossi was mesmerised by TV images of the Milan of Ruud Gullit and Marco Van Basten, and he dreamed of pulling on the famous Azzurri shirt of his schoolteacher parents' Italian homeland.
His first opportunity at senior level was last October as a substitute against Bulgaria – a full and eventful two-and-a-half years after then-USA manager Bruce Arena tried to persuade him to make a different choice.
Arena pointed out that Rossi would enjoy a far quicker route to international stardom and the World Cup with Team America, but Rossi has never taken the easy choice just for the sake of it.
His original footballing ambition, supported by father Fernando, had taken him to Parma as a 13-year-old for a trial and a youth slot. But at 17, with an Italian contract still a year away and a queue of clubs at the door, the Rossi family accepted a deal with Manchester United.
A spectacular goal against Sunderland then brought him back to Arena's attention.
Rossi says: "I was only 18 then but Bruce Arena told me he wanted me in his squad going to the 2006 World Cup finals in Japan and Korea. But my dream was to play for Italy. No one understood it. I want to make my dreams come true – but that never meant playing for America.
"I always wanted to be a professional footballer. You can achieve it in the United States but the professional game is so much smaller. In Europe it's much easier – or less difficult, anyway."
Some of Rossi's admirers believe that his character in making a positive choice for Italy was one of the reasons Marcello Lippi believes he has something very particular to offer the national team.
"I'm just an ordinary young man whose home is America, who has family there and who lived there until I was 13," says Rossi. "But then I spent five or six years in Italy – that's where
I grew up as a footballer so it's an important place to me and my ambition is still to make it in Italian football. It's a difficult challenge but I enjoy pressure."
Rossi had two seasons at Manchester United, scoring one goal in one Premier League start plus four substitute appearances. But he enjoyed more first-team opportunities on loan with Newcastle then back in Italy with Parma. By now it was clear his prospects of a senior breakthrough at United were virtually nil. Parma could not afford to pay the £6.6million United demanded so he went to Spain with Villarreal instead.
In the 2007-08 season, in which United won the Champions League, Rossi scored three goals in eight games for the Yellow Submarine in the competition and became a first-team fixture – just as he now appears set to be a fixture in the Italy squad in South Africa next year.
He certainly came impressively off the bench in their Confederations Cup opener to score two goals against his original homeland and turn around a game which the Italians – improbably against 10 men – had been losing 1-0.
For Rossi, a far more difficult choice than playing for Italy or the United States would be choosing between Milan and United.
He says: "Of course, if Milan ever came looking for me, I'd happily say hello. But if United wanted me then I'd walk all the way there. They gave me my first experience with a first-team squad and it was terrific."
Keir Radnedge