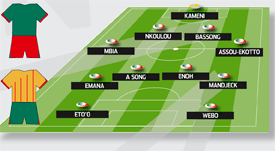 There is less dependence these days on a bullying midfield and more of rapid build-up with Eto'o the intended end user. Finding him a suitable partner remains the biggest problem on preparing the side. Eto'o, who was named team captain – replacing Rigobert Song – by coach Le Guen last August, has had a myriad of players alongside him for more than a decade now but has never had one to even come close to profiting properly from his speed and guile.
At the Nations Cup in Angola, the tall form of Idrissou probably looked the best foil for the Inter striker.
Creativity
Alex Song will run the midfield – he has a withdrawn role at Arsenal shielding the back line, but Cameroon will look to him for creativity – but Mbia is being moved to right-back.
In defence, coach Le Guen has dropped Rigobert Song and Geremi and will probably use the Tottenham pair of Assou-Ekotto and Bassong in their stead. The 20-year-old Nkoulou is the other centre-back and one with a bright career ahead of him.
Cameroon are likely to line up in a traditional 4-4-2, although against the Dutch they may be tempted to play with Eto'o as lone striker and put more muscle into the midfield, perhaps in the form of Makoun.
Team – 4-4-2
Kameni; Mbia, Assou Ekotto, Nkoulou, Bassong; Song, Eyong, Emana, Mandjeck; Webo, Eto'o. (st)