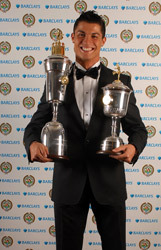 Players cast their votes for the PFA awards at the end of January, so they had to go on performances in the first half of the season and trust that more of the same would follow. In the case of Cristiano Ronaldo, who won both Player of the Year and Young Player accolades, their expectations were met, and then some.
The 22-year-old finally started fulfilling his enormous potential in the spring. Manchester United's 7-1 demolition of Roma in the Champions League quarter-finals marked a breakthrough: Ronaldo scored his first two goals in the competition and left Irish pundit Eamonn Dunphy, who had dismissed him as "a puffball, who has never performed at that level", with egg on his face.
The impact of the Portuguese has been phenomenal this season. His goals, breathtaking tricks and clever assists have transformed United, widely tipped to endure another season as also-rans, into awe-inspiring treble hunters.
But three other, less discussed aspects of this story warrant closer inspection. Firstly, it is now clear that replacing David Beckham with a then largely unheard of 18-year-old kid from Madeira was a marketing masterstroke. Ronaldo has the pop-culture appeal Beckham used to have. He has brought back glamour and excitement to a United brand that has always been sold on the twin attractions of youth and attacking football. What's more, he can back up the hype on the pitch, something Beckham managed in one game only: England's laborious 2-2 World Cup qualifying draw with Greece in 2001.
Ronaldo's incredible marketability, which is only starting to be discovered by corporations, is a testament to the good work of United's scouting system. Alex Ferguson
is fooling no one whenever he rolls out the old chestnut about his players urging him to sign the talented boy after coming up against him in a friendly with Sporting Lisbon; the club had obviously watched Ronaldo for a while.
Secondly, United's ability to hold on to the youngster, one of the world's most admired players, despite incredible offers from Real Madrid and Barcelona strikes a big blow for the Premier League's international standing. English football has had huge influxes of money for a while now, but even the biggest clubs have found it hard to attract top international players to these shores in the past.
The fact Ronaldo has extended his contract until 2012 could well alter the landscape. Only two England-based players have won the European Footballer of the Year award in the past 40 years – George Best in 1968 and Michael Owen in 2001. You'd expect more to win it in future.
The third aspect is the least visible but probably most important. It's arguable that Ronaldo's success is the culmination of a process that began with Eric Cantona, Gianfranco Zola and Dennis Bergkamp: he has finally made English football very European. A technical, wily foreigner who sometimes over-indulges on and off the pitch and who is not exactly a beacon of modesty is now the most revered player in the land. His flaws are generously overlooked; beauty trumps idealism. Remember his early days in England? For every article praising his skill, there were 10 that decried his penchant for going to ground a tad too easily. Sir Alex's protestations – "not even Atlas could withstand some of these tackles" – were in vain. To most people, Ronaldo, flash, showy, too much in love with the ball and himself, had the punishment on the pitch coming. When he played a very negligible role in the sending-off of United team-mate Wayne Rooney at the World Cup, he even became the "Winker", public enemy number one.
But then something strange happened. Ronaldo just kept on playing better and better, and even though his game is still not free of the occasional unprovoked tumble, the English public became so besotted with his extraordinary skill that his lackadaisical attitude to fair
play is no longer such a big deal.
Diving outrage
In Germany, we have always been fairly ambivalent about diving. After all, two of our three World Cups were won thanks to, let's say, debatable spot-kicks. It's a little frowned on, but only if your team are the victims. In England, however, it has long been considered an outrage, a crime much worse than breaking an opponent's leg. Especially if foreigners are the perpetrators, of course.
When English clubs started playing in Europe after the war, the idea that good, honest football was being infected with the disease of gamesmanship slowly took root. To this day, Rooney's sometimes dubious tumbles are quickly glossed over on television. "Rooney would never dive," one of the commentators will say, and everybody is supposed to nod in agreement. But this blatant hypocrisy is becoming exposed. Ian Wright unwittingly summed up the real attitude among football fans when he declared that "diving for England is all right" during the World Cup. If that's true, if it's really all a matter of perspective, then diving for United or Chelsea must be all right, too.
This new pragmatism, coupled with the increasing, unprecedented protection afforded to flair players by English referees, has created an environment in which players such as Ronaldo can now flourish. And his performances have richly rewarded English football for its new tolerance. Middlesbrough midfielder George Boateng badly misjudged the prevalent mood when he warned that Ronaldo would "one day get injured" by an irate defender. These Neanderthal sentiments are being marginalised.
English football's distinct style and preoccupations are slowly vanishing, at least at the top of the table. Ronaldo shows us that this might not be a bad thing at all.
Raphael Honigstein is the English football correspondent of German newspaper Suddeutsche Zeitung