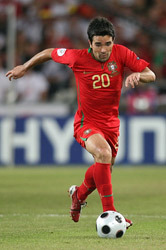 World Soccer: What are your our impressions of London and how have you adapted here?
Deco: It's different because Barcelona was smaller, this is a very big city, and the weather is colder, but I am adapting very well to the club. I already knew a few of the players that are here at Chelsea like Ricardo Carvalho, Paulo Ferreira, Hilario and Belletti, so I am very happy.
How much has Luiz Felipe Scolari helped your adaptation?
It's important he is here now because it is a new city and a new club and although I know a few of the players, he is the manager and has been a big influence on me.
How would you compare the pressure of playing for Chelsea and Barcelona?
Here it's easier to concentrate on football because in Barcelona we had two daily sports newspapers talking about the club and the players, and the press was at training every day… here it's calmer in that aspect. We are training far away from the city, there is no press there and no fans, so it's easier.
How are you learning English and how do you communicate with the other players?
My English is not great, but I speak a little bit. I am learning by listening to other people talk and I have started lessons now for a few weeks. I try to speak better but it's going to take time. It's a good challenge for me.
What is your relationship with Scolari and how would you describe him as a person?
I worked with him in Portugal with the national team and he is a great person, we have a great relationship. He is calm off the pitch, which might seem strange because during training and matches he is very vocal and very animated. He is someone with whom I can talk to about everything and he has a great sense of humour.
You have worked with Jose Mourinho as well. How would you compare them?
They are similar because they are both great leaders and strong characters. However, their demeanour is different. Scolari talks more to the players on a daily basis, while Mourinho prefers to concentrate more on match preparation and will only speak to you personally when it is necessary to do so.
It hasn't taken you long to adapt to the Premier League. Why have you been so successful so quickly, because it is a different game to the one you played in Spain…
It is different because here the game is more physical, it's faster and teams play more in a direct style. But I think I found adaptation easy because I came here at a stage in my career when I already had a lot of experience. I accepted these differences and was more mature about my surroundings.
Which player has impressed you the most at Stamford Bridge?
For me, Chelsea have the best midfield in the world, that is the strongest area of the team. However, the player who has impressed me the most is John Terry because he has a strong character, he is a great leader and also a very complete footballer.
You have won the Champions League with Porto and Barcelona. Chelsea have never won the competition, although they came close last year. Do you think the club are strong enough to win the title?
Yes, we are strong enough to win the Champions League. We have a similar squad to last season, so that is a good foundation for success. Chelsea were unlucky last season and you need to be lucky to win the competition as well as good, so all we can do is concentrate on getting to the Final again and then in Rome, anything can happen.
Do you see Manchester United as your main rivals for the Premier League title, and what other teams have impressed you?
Manchester United are the defending champions so they are the main challengers. However, Liverpool are very strong, they have a very solid defence and are hard to break down. We can't forget Arsenal, either, because they have a lot of quality players.