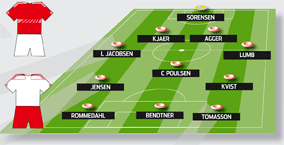 Morten Olsen has stuck fairly rigidly to the modern favourite 4-3-3, despite heavy criticism within Denmark that the style makes the team too conservative. His argument is that with no star players, there is a reliance on disciplined teamwork and organisation.
It also suits the counter-attacking style in which Olsen was schooled as a player under former Denmark coach
Sepp Piontek, who pioneered the "contra" strategy in the 1980s. Key to the system is the speed of wingers Rommedahl and Gronkjaer, though both are rarely in the same starting line-up. This tactic also favours another veteran winger, Jorgensen.
Key defenders are Agger and Kjaer, with Kroldrup as a high-class back-up. The full-back positions are more problematic with Lars Jacobsen the favourite at right-back, and newcomer Lumb the possible left-back.
Christian Poulsen is absolutely crucial to the team, playing the role of holding midfielder. His likely partners in the engine room of the side will be Jensen and Kvist.
Meanwhile, Bendtner and Tomasson are the clear first choices in attack – even though the latter has suffered from a severe lack of goals recently.
Switch of style
Should Olsen decide on a switch of style, it would be to the variation formation of 4-2-3-1. This would allow him to include two flying wingers, with Tomasson playing in the hole behind Bendtner.
Alternatives in attack are thin; pick anyone from Lekic to Soren Larsen to Lovenkrands – none inspires confidence.
The big gamble would be on the youthful promise of teenager Eriksen, a player for the future as much as Tomasson and Jorgensen are players of the past.
Team – 4-3-3
Thomas Sorensen; Lars Jacobsen, Simon Kjaer, Daniel Agger, Michael Lumb; Christian Poulsen, Daniel Jensen, William Kvist; Dennis Rommedahl, Nicklas Bendtner, Jon Dahl Tomasson.