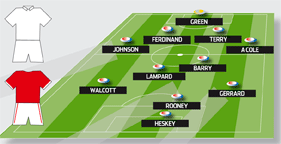 It's all about Rooney. Fabio Capello's England side is geared to getting the best from their best player. What on first inspection is a straight 4-4-2 is actually more of a 4-2-3-1. Heskey is the lone centre-forward, acting as a battering ram to free up space for Rooney, who drops deep and roam from the centre of an attacking three, along with Gerrard (left) and one other.
Ashley Cole and Johnson attacking down the flanks from full-back, with Barry and, to a lesser extent, Lampard acting as defensive midfielder. Lampard, though, will also be expected to make his trademark late runs into the box.
One of the big talking points of recent years, whether Lampard and Gerrard can play in the same team, has become a non-issue under Capello, who has shoehorned the pair into the same side. Gerrard is likely to start on the left, but is probably more at home on the right, where Capello has a number of options. Walcott has the edge at the moment but Lennon, if he proves his fitness, is a pacy alternative, while in-form Milner could force his way into the side.
The effectiveness of the Barry-Lampard midfield axis is likely to become more of an issue the longer England stay in the tournament, as they encounter teams with greater midfield nous.
Green likely to edge out James as first-choice keeper, while central defence is likely to provide Capello's biggest selection headaches. The poor form of Terry and fitness of Ferdinand may expose of the paucity of possible replacements.
In attack, Crouch is a more considered replacement for Heskey, while Defoe is the classic penalty-box poacher who may come into his own if Rooney is injured.
The possible absence of Rooney is England's biggest worry. There is no plan B. A 4-4-2, with Defoe and Crouch resuming their club partnership, is the most likely option.
Team – 4-4-2
Green; Johnson, Ferdinand, Terry, A Cole; Walcott, Lampard, Barry, Gerrard; Rooney, Heskey.