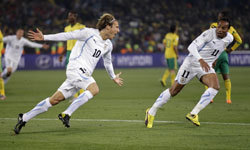 After the events of the summer of 2004 – when, unwanted at Manchester United and wondering whether he might best be advised to go home to South America – Diego Forlan's career has undergone a remarkable turnaround.
The Atletico Madrid striker's inspiration, hard work, fair play and exemplary leadership in South Africa were pre-eminent factors in Uruguay's best finish at the World Cup finals since 1970, when old heroes such as Pedro Rocha, Roberto Matosas, Luis Cubilla and Ladislao Mazurkiewicz also reached the semi-finals and were ultimately placed fourth. He also earned the ultimate recognition when he was awarded the Golden Ball as player of the tournament.
Twice winner of the European Golden Shoe – as leading scorer in the continent's domestic leagues – Forlan stepped up decisively into the international elite in May when he scored both goals as Atletico beat Fulham 2-1 in the extra-time climax of the Europa League Final.
Then, little more than three weeks later, he was joint-top scorer in South Africa. Germany's Thomas Muller may have collected the World Cup Golden Shoe on the basis of more assists, but Forlan would have beaten him to it – and David Villa and Wesley Sneijder – had his last-second free-kick not ricocheted away off the top of Germany keeper Hans-Jorg Butt's bar in their third-place play-off.
Forlan was released by United in August 2004 because, though fans appreciated his industry, 17 goals in 98 appearances was not the sort of return demanded by manager Alex Ferguson. His ratio of 29 goals in 69 games for his country, however, is far better.
Forlan has no reservations about the overall outcome in South Africa and says: "Spain put on the best performances and were well-deserved winners. They played far better than anyone else there.
"They didn't score many goals – we scored more [11 to Spain's eight] – but players like David Villa and Andres Iniesta can score the important goals which win matches. Iniesta, especially, finds spaces on the pitch which catch the opposition off guard."
After it was all over, Forlan – now a wanted man all over Europe – touched base in Spain just long enough to pass through the Atletico offices before flying off on holiday, dismissing all questions about his future.
"I am very proud that I helped Atletico win their first European trophy since before I was born," he says. "I know there's talk about the future but I am very happy here. There is always speculation of one sort or another. If my brother or my agent call me then I will think about things. Otherwise, absolutely not.
"When I came back from the World Cup only one thing was certain: that Atletico will be playing Inter in the European Supercup at the end of August."
Ironically, or coincidentally, as Forlan took his well-earned break, Inter were at the head of the queue of clubs being linked with a bid.
Atletico, officially, refused to even discuss the possibility of selling but – as with Fernando Torres in his time – they have a "reserve price". In Forlan's case this is £30million, twice any likely initial offer for a player who is no sparkling new boy at 31.
Forlan may appear to lack the aura which clings, for one reason or another, to previous World Cup Golden Ball winners such as Diego Maradona, Paolo Rossi, Toto Schillaci, Ronaldo, Romario and Zinedine Zidane. But, for all his modesty, he will not waste time worrying on that score; it's mixed up with other memories.
"On one hand it's unbelievable when I think that players like Muller, Robben, Sneijder, Iniesta or Xavi could have been the Golden Ball winner," he admits. "They're all great players so I have to say a special thank you to my team-mates who gave me all the support I needed to do whatever I did.
"Mind you, I would have swapped the award for us to get to the Final."