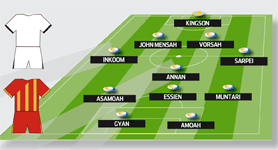 Ghana's use of a midfield pivot at the African Nations Cup finals in Angola earlier this year proved hugely effective, with Kwadwo Asamoah a veritable general. But the imminent return of Essien and Muntari in South Africa will change things.
The powerful Essien will seek to drive things forward, while Muntari's ability to weave in from the flank provides other exciting options.
Packing the midfield
However, Ghana often inhibit their own ability to move freely by packing their midfield. Sarpei uses the left flank to good effect and Inkoom can push on the right. If they do so, Essien will more than likely tuck in as cover in front of the two central defenders. Essien's fitness will be a question and if he is not available, Annan will become the anchor and Asamoah the playmaker.
Up front, Gyan's pace means that he can sit high up on the opposing defence and then break free to capitalise on the service provided.
Team – 4-1-3-2
Kingson; Inkoom, Mensah, Vorsah, Sarpei; Annan; Asamoah, Prince Boateng, Muntari' Gyan, Amoah.