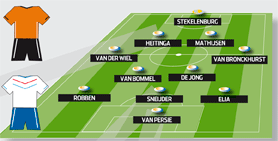 Holland will adopt a 4-5-1 system and most of the key positions have already been filled. Stekelenburg will be in goal, while Van der Wiel, Heitinga, Mathijsen and Van Bronckhorst are the first-choice defenders, with Vlaar, Boulahrouz or maybe Ooijer as stand-in centre-halves.
Van Marwijk has a world-class midfield at his disposal with the tandem of Van Bommel and De Jong as a solid defensive and ball-winning block. Meanwhile, on the wings, Robben and Elia both have speed and can play on either flank. Kuyt is an alternative on the right flank.
Best option
The biggest question is which two of five candidates will play in the attacking positions? Sneijder would seem to be the best option for the role of playmaker, but where exactly does that leave Van Persie?
The Arsenal player will definitely have a place in the side. He could move to the right flank in a free role, but will more than likely end up as the out-and-out front man,
and this is something Van Marwijk will try during the preparations.
Should the coach decide to go with a "genuine" striker, Huntelaar, Kuyt or Van Nistelrooy are the candidates, with the latter maybe used as a substitute or a non-finishing starter. Van der Vaart is most likely used as a cover for Sneijder.
Team – 4-2-3-1
Stekelenburg; Van der Wiel, Heitinga, Matthijsen, Van Bronckhorst; Van Bommel, De Jong; Robben, Sneijder, Elia; Van Persie