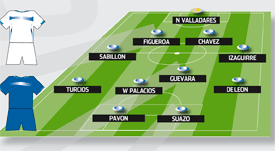 Rueda's Honduras almost always play 4-4-2, occasionally switching to 4-4-1-1 when, instead of fielding two big strikers like Pavon and Suazo, they have the smaller Martinez or Costly playing off one of them.
Veteran keeper Noel Valladares is good on his line but relies on the big centre-backs to clear any aerial danger. The team depends on a strong back four while encouraging attacking forays by the full-backs, with Izaguirre good and dangerous on the left.
In midfield, captain Guevara plays a holding role, while Wilson Palacios will create attacking chances.
Exploiting space
Rueda will be hoping to close down the nippy, skilful forwards his side will face against their group rivals, while at the same time hoping to exploit space up front against Spain and Switzerland.
Team – 4-4-2
Valladares; Sabillon, Chavez, Figueroa, Izaguirre; Turcios, Palacios, Guevara, De Leon; Pavon, Suazo.