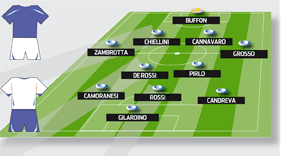 Tactically, Marcello Lippi has always been ultra-flexible, often changing his tactical line-up as well as his personnel in the course of a game. It said much about the astute manner in which he handled Italy four years ago that the only two players not to play at least once in Germany were the two reserve goalkeepers, Angelo Peruzzi and Marco Amelia.
Initially, Lippi may well start out with a very familiar looking 4-2-3-1 line out which sees Cannavaro and Chiellini in central defence, with Zambrotta at right-back and Grosso on the left. De Rossi and Pirlo provide the midfield fulcrum-cum-filter, while there may be room for newer names such as Rossi, Candreva and Marchesi in behind a lone ranger striker such as Gilardino.
Two central strikers
If circumstances dictate, then Lippi may well play with two central strikers. In the semi-final against Germany in Dortmund, Italy ended up with a four-man attack of Iaquinta, Del Piero, Totti and Gilardino.
On the personnel front, two outstanding issues remain. Will he recall talisman Totti and will he bring in new boy Amauri? Given Totti's physical fragility and Amauri's current poor form it would seem unlikely, but Lippi may have other ideas.
Team – 4-2-3-1
Buffon; Zambrotta, Chiellini, Cannavaro, Grosso; De Rossi, Pirlo; Camoranesi, Rossi, Candreva; Gilardino.