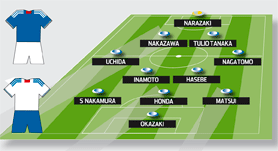 Coach Okada prefers to play with a bold, attacking 4-4-2, but has been talking about the shoe being on the other foot in the World Cup and could experiment with a more spoiling game in his warm-up games.
He is more likely to opt for a 4-2-3-1 formation against the stronger opposition in South Africa, thereby taking advantage of his wealth of midfield talent and seeking to counter-attack on the wings.
If he does go with a 4-4-2 line-up, then fleet-footed Okazaki would be best served by a taller partner, such as Morimoto or Hirayama. Honda had been used in the same position as Shunsuke Nakamura but was moved into the middle for the Bahrain game in March and looked far too good playing there to be left out.
Defensive qualities
The big question in midfield may be how and where to use the versatile talents of Endo, who can fit in anywhere. However, the more rugged Inamoto and Hasebe seem the more likely choices in the rear of midfield for their defensive qualities.
Okada plays a conventional back four with all four players willing and able to join the attack while experienced goalkeeper Narazaki is now firmly established as Japan's first-choice No1.
Team – 4-2-3-1
Narazaki, Nagatomo, Tulio, Nakazawa, Uchida; Hasebe, Inamoto; Matsui, Honda, Shunsuke Nakamura; Okazaki.