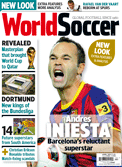 Welcome to the latest World Soccer newsletter. The new-look World Soccer is now on sale!
You will notice some significant changes to the magazine this month. We've added some extra features and, hopefully, improved some existing ones.
We're keen to find out what you think about the changes. Please complete our online survey and enter your name for the chance to win a copy of The Story of the World Cup, signed by the author Brian Glanville!
You can read two of our exclusive interviews in this month's newsletter. Dutch playmaker Rafael Van der Vaart discusses his first season in England, while Danish wonderkid Christian Eriksen explains why he sees his future in Spain.
Meanwhile, World Soccer regular columnist, Brian Glanville, wonders whether Tottenham's European success this season has been down to luck rather than judgement.
Remember, you can discuss all the latest developments in the game, give your opinion on anything in World Soccer and keep up to date with all the latest news at www.worldsoccer.com