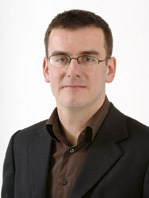 Prepare for sightings of Roberto de Assis, brother and agent of Ronaldinho, all over Europe in the coming weeks. While Ronaldinho's disappointing season has reached a premature end following the muscle injury suffered in training last week, his brother is busier than ever, preparing for the increasingly likely transfer from Barcelona.
In the past week, Roberto has been spotted in Italy, meeting with Milan vice-president Adriano Galliani, though whether they were discussing Ronaldinho's future is debatable, given that Roberto also represents Ricardo Oliveira, who is currently on loan at Zaragoza from Milan. Still, it does Roberto's business no harm to be photographed by Gazzetta dello Sport chatting with Galliani. Similarly, it suits Roberto down to the ground when Sky Sports News "exclusively revealed" that Roberto was a guest of Man City at last weekend's game against Chelsea.
Both stories were followed soon after by the standard "Ronnie is happy at Barca" story. "Ronaldinho has a contract until 2010 and I am not looking for
anything," said Roberto in Don Balon.
That may be true, but what is also unavoidable is that Barcelona have, for some time, been preparing the ground for Ronaldinho's possible departure.
Frank Rijkaard may insist, in public, that Ronaldinho is still an important part of his plans. But in private the club has done little to discourage the whispering campaign about the more colourful episodes in the Brazilian's private life. In fact, Barca's lack of concern in killing off these stories has suggested to some in Catalonia that the club may itself be behind many of the whispers.
The emergence of Leo Messi as a bona fide star in the past 18 months has weakened Ronaldinho's position, and there are a number of key figures within the Barca hierarchy who have been arguing for some time that the club should cut its losses with Ronaldinho and throw its weight behind new hero Messi. But the Brazilian is still only 28 years old and is arguably about to enter the peak years of his career.
The link with Manchester City appears to be a tenuous one, especially as City manager Sven Goran Eriksson seemed as surprised as anybody to be linked with Ronaldinho. But City will not be the last club to be mentioned in connection with a bid for the player before the summer transfer window cranks open for business. Not if Roberto de Assis has anything to do with it.