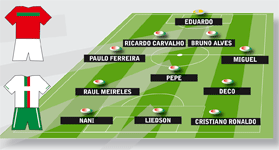 Portuguese managers have prioritized the 4-3-3 formation for over a decade and that will not change at the 2010 FIFA World Cup.
Considering the adventurous nature of both wingers, the full-backs will be asked to defend first and only support the attacking play if it is necessary. Paulo Ferreira and Miguel will get forward at times, but their primary role will be making sure the team holds its shape at all times.
Just in front of the back line will be a player who was nurtured as a centre back but has been moved forward by Carlos Queiroz. Pepe's ball-playing skills mean he can hold his own as a defensive midfielder. The Real Madrid star will be protecting Raul Meireles and Deco, the latter of which will be entrusted with the role of playmaker.
Further ahead, Portugal will rely on the individual skills of Simao and Cristiano Ronaldo to create and convert goal-scoring opportunities. CR9 will also drift into the centre in support of the striker, but he is most effective on the wing where he has the space to create havoc among the opposition's defence.
Liedson will get the nod to lead the front line and his mobility and finishing skills will be key to how successful the team is in attack.
Team – 4-3-3
Eduardo; Paulo Ferreira, Bruno Alves, Ricardo Carvalho, Miguel; Pepe; Meireles, Deco; Nani; Ronaldo; Liedson.