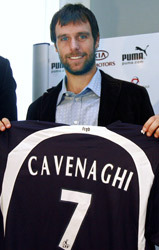 Fernando Cavenaghi
After two dismal years at Spartak Moscow, Argentinian striker Fernando Cavenaghi is under no illusion that he must deliver at new club Bordeaux. Another barren spell in front of goal and his career might never recover, even though he is still only 23.
Cavenaghi could not stop scoring for River Plate in the early part of the decade, his 55 goals in 88 matches putting scouts from Italy and Spain into a frenzy. A Latin corner of Europe would have suited the whizzkid perfectly but instead he and his representatives thought it best to answer the siren call of Spartak, who splashed out £5.7million in 2004. The culture shock of Moscow and the artificial pitches were simply too much for the South American, the goals dried up – just a dozen in two seasons – and he fell off the radar. Time to move on.
There's no question about Cavenaghi's nose for chances, his technical polish and ability to finish smartly with either foot. But how much homework went into his choice of Bordeaux? "I know Bordeaux's reputation as the biggest club in France," he told his first press conference. Lyon, Ligue 1 champions for the past five seasons, would have something to say about that.
Five other players looking to make a name for themselves after moving in January
Lucas Mareque
FC Porto fans watching new Argentinian recruit Lucas Mareque could be excused for mistaking the signing from River Plate for Argentina's national team captain Juan Pablo Sorin. Not only do the pair share a position (left-back or wing-back), but they also look strikingly similar, both having squat physiques and long, dark hair.
Mareque, who also holds an Italian passport, approaches his defensive duties with typical Argentinian grit and single-mindedness but his strongest points are dynamic overlapping, crisp passing and sound crossing. His creative ability should not come as a surprise. As a youngster he used to wear the No 10 shirt and has experience as a winger.
He began his career in Racing Club's schoolboy side, but switched to the River Plate academy because the club were closer to home.
He is very much a chip off the old block, the son of the late Armando Mareque, a former Velez Sarsfield defender who was later a successful coach.
Alexander Kerzhakov
Sevilla's push for the Spanish League title prompted them to pay Zenit St Petersburg £3.5million for Russia striker Alexander Kerzhakov in what was the first act of a long-term partnership between the two clubs.
Some in Russia believe new Zenit boss Dick Advocaat was too quick to declare the 24-year-old surplus to requirements. After all,
he has proved by far the best finisher at the club over the past five years, regularly placed among the leading marksmen in the country.
Kerzhakov, who is contracted to Sevilla until 2012, was also sought this winter by Lyon, Marseille and Tottenham but had eyes only for the Iberians after playing them in the UEFA Cup. He says: "On getting to know Sevilla, their attacking play,
the city, their passionate fans,
I fell in love with the place. They are the UEFA Cup holders but that is not their true level. They belong in the Champions League."
Radoslaw Matusiak
In-form GKS Belchatow striker Radoslaw Matusiak became the sixth Pole to set up home in
Serie A when signing for Palermo for £1.3million. The 24-year-old is unlikely to prove as big a hit in the peninsula as Zibi Boniek, a star for Juventus and Roma in the 1980s. But coach Francesco Guidolin is sure Matusiak's strong running and opportunism will enhance his side, adding that he expects the Pole and Brazilian Amauri to form a deadly duo.
Matusiak's career has really taken off this season, netting nine times in the autumn to propel unfashionable Belchatow to the top of the Polish League and becoming a national team hero thanks to his winning goal against Belgium in a Euro 2008 qualifier in November. He has already enjoyed continental success, having been a member of the Polish Under-16 side that took silver at the 1999 European Championship.
Marcelinho
Maverick Brazilian playmaker Marcelinho is renowned for his unpredictability and he lived up to his reputation this January. The man of the multi-coloured hairstyles and sumptuous ball skills admitted he had made a mistake in quitting Hertha Berlin for Trabzonspor in the summer and promptly took the first available flight back to Germany, where he signed for Wolfsburg.
Marcelinho's mission is simple – to inject ideas, style and vision into a workmanlike but decidedly uninspiring midfield to ensure the VW club rise clear of relegation danger. It should not be beyond him; after all, he gave full value in five years at Hertha – 65 goals and 49 assists.
One problem. The 31-year-old does like to party, and to ensure he does not play away at his favourite Berlin nightspots, Wolfsburg insisted on a clause in his contract that he live locally rather than in the capital.
Vincenzo Montella
It did not take long for Vincenzo Montella to become a cult hero at Fulham, whom he joined on a six-month loan from Roma. Two goals in an FA Cup win over Leicester, another in the same competition against Stoke and a penalty in a league fixture with Tottenham proved the 32-year-old had lost none of his penalty-box sharpness.
The diminutive Italian is the archetypal goalpoacher – explosive on the turn, clever in his off-ball runs and obsessed with putting away chances. What's more, he is just as effective used as a substitute, able to quickly adjust to the pace of a game.
Observers in Italy thought he was damaged goods after missing much of last season with back and shoulder injuries. Montella, nicknamed the "Little Aeroplane" because of his trademark goal celebration, is out to prove them wrong.