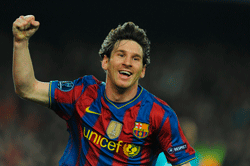 Currently the game's greatest attraction, Lionel Messi has claimed yet another prime position after being named top of a players' "rich list".
Barcelona's Argentinian earned £29.7million last year, putting him ahead of the previous year's top-earner David Beckham (£27.3m) with Cristiano Ronaldo (£27m) in third.
The list, published in Paris weekly France Football, estimates Messi's annual earnings based on a basic salary of £9.1m, plus £3.6m in bonuses and an annual £17m from personal sponsors including Adidas, Pepsi-Cola, Gillette, Gatorade, Konami, Air Europa, Telefonica/Movistar, SportCenter/ESPN, Damm, Danone, Lody For Men, Storkman, Repsol YPF, SanDisk and Mirage/Seiko.
Messi has been in imperious form in recent weeks, scoring back-to-back hat-tricks in the Spanish league against Valencia and Zaragoza, as Barcelona seek to retain last season's double haul of the Spanish league and Champions League.
Barcelona president Joan Laporta even claimed: "He is the best player in the world and in the history of football. Along with Johan Cruyff and Diego Maradona he is the best we have ever seen here. He played a great game, he's a brilliant footballer, decisive in matches and plays for the team. He is Barcelona's leader."
Messi's outstanding hat-trick against Zaragoza was his third of the season and earned rare praise from Cruyff, who said: "It's impossible to put a price on his greatness, not only for the way he takes responsibility on behalf of the team but because of his generosity of spirit."
Another man to place Messi above Maradona was Deportivo La Coruna's Argentinian coach Miguel Angel Lotina, who added: "For me, Messi is an even more complete footballer than Maradona because he is quicker and a better team player."
Messi has scored 114 goals in 199 games for Barcelona in all competitions since making his debut in 2004-05.
That compares impressively, considering the physical demands of the modern game, with the first five-year marksmanship rates of other superstars. Alfredo Di Stefano scored 97 goals in 134 games for San Lorenzo, River Plate and Millonarios between 1945 and 1950; Pele ramped up 202 goals in 257 appearances for Santos between 1957 and 1961; Cruyff scored 164 goals in 202 for Ajax between 1964 and 1970; and Maradona claimed 144 goals in 206 games between 1976 and 1981 for Argentinos Juniors and Boca Juniors.
Comparisons between eras are highly problematic and Messi might, privately, take greatest pride in the assessment of Pep Guardiola, his Barcelona coach, who has said: "Messi is the greatest footballer I have ever seen…or expect ever to see."