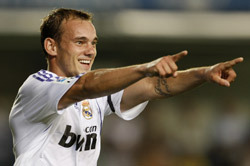 No Zidane, no Beckham, no Ronaldo, no Roberto Carlos; the fan jury remains out on Robinho; and Raul and Iker Casillas lack that mystical foreign allure. Hence there is a gap at the Bernabeu for a new "crack", a player who can rise above the team while remaining essential to them.
Step forward, then, Wesley Sneijder. The mantle of expectation has fallen on the Dutchman's slim shoulders only a matter of weeks after his arrival at Real Madrid and with temperatures in Amsterdam barely cooled after the hide-and-seek of his transfer.
The initial assurance still sits out there on the internet, dated July 20 and reading: "Wesley Sneijder will be an Ajax player for one more season. The 23-year-old midfielder …announced his decision during a press conference in De Lutte, where Ajax hold their training camp. Managing director Maarten Fontein was pleased with Sneijder's decision, saying: 'This is very good for everyone, for Wesley, for the team, for the club and for our fans, especially with the ambition that Ajax have this year.' Sneijder said: 'With this team we can accomplish many things. This decision gives me peace of mind and we have the chance to have a fantastic season with Ajax. We are gunning for the championship and can go far in the Champions League.' "
"Impossible" deal done
Fast forward to August 12 and suddenly the world has turned on its head for the youngster. Suddenly, the "impossible" deal is being done, for a Dutch record £18.8million, and Ajax technical director Martin Van Geel is saying: "We are proud that after Ryan Babel's move to Liverpool another player from our youth programme has joined a top European club for a lot of money. Obviously we are sad that we have to miss one of our best players in the very important qualifying matches for the Champions League. At the same time, we could not deny Wesley this opportunity."
In football only goals carry value. Words are worth next to nothing, or even plain nothing in the case of Sneijder.
But then this is how it has been with Dutch football over the past 35 years. The world has learned to expect more than they can, ultimately, deliver.
The national team and top clubs such as Ajax, Feyenoord and PSV Eindhoven have featured among the contenders to win European competitions; and Dutch players have been in demand all over Europe. The problem is that many fail to deliver what is promised – and this is every Madrid fan's fear.
Will Sneijder, who has signed a five-year contract, prove to be a prize-winning successor in the style of Johan Cruyff, Ruud Gullit, Marco Van Basten and Frank Rijkaard or will he follow in the not-quite-fulfilled status of such as Bryan Roy, Rafael Van der Vaart and Patrick Kluivert?
Rijkaard, now the Barcelona coach, has no doubts about Sneijder's quality. Indeed, Barca pondered about making a bid earlier this year but then became distracted by other transfer targets. He says: "Sneijder is imaginative, has an accurate pass, good shot and scores goals. On top of that he is two-footed, is a winner by nature and can play in midfield or just behind the attack." That makes him what the Spanish call a todoterreno – an "all-pitch" footballer.
Hand-picked
Sneijder, born in Utrecht, was picked up by the Ajax academy as a winger or wide-running midfielder. In a short time, after moving into central midfield in either a holding or attacking role, he was hand-picked for the reserves by coach Danny Blind, who soon recommended his further promotion to then senior team boss Ronald Koeman.
Sneijder made his first league start at 18 in a 6-0 win at Willem II and then, in "one mad week", in April 2003, played against Milan in the Champions League and made his senior Holland debut against Portugal, aged 18 years 325 days.
Later that year he scored against Moldova and Scotland in the Euro 2004 qualifiers –
he was Holland's outstanding player in their play-off defeat of the Scots – then made two appearances as a substitute in the Portugal finals as Holland reached the last four.
In 175 appearances for Ajax, Sneijder scored 55 goals, many of them from his trademark bending free-kicks. But he also displayed temperament problems, being fined in 2004-05 for gesturing at Koeman after being substituted in the Dutch Super Cup.
Sneijder's final season at Ajax was his best, scoring 18 goals in 30 league games
as he relished the freedom provided by the arrival of veteran midfielder Edgar Davids.
Madrid were already following his progress closely and, after the failure of their over-optimistic bid to prise Kaka away from Milan, Sneijder became their next target. Having got him, they also handed him the No 23 shirt that David Beckham had relinquished on his departure to Los Angeles Galaxy.
Sneijder quickly set about replacing Beckham in the hearts of the Bernabeu faithful by starring and scoring from free-kicks in both the first two league games, at home to neighbours Atletico and away to Villarreal. His swerving effort against the latter, one of two goals in the 5-0 win, was as good – if not better – than anything Beckham had produced.
Sneijder has been quick to acknowledge the help he has received in adjusting to Spanish football, life and language from compatriot Ruud Van Nistelrooy, saying: "He has been almost like a father to me."
Not that the youngster will need such support for long. "Already he reminds me
of another blond guy who played for Madrid once and struck the ball like that," said coach Bernd Schuster, comparing Sneijder with himself.
Schuster was hired to put a smile back on Madrid's footballing face after the qualified success of the scrapping style imposed by Fabio Capello. So far the switch is working.
As Sneijder said: "All the players are enjoying our football. But we must remain calm and keep working hard because this has just begun. As for me, I have been very lucky to have had such a fantastic start. David Beckham? I don't like to be compared with other players. He has his own characteristics and I have mine. We are different players."
Indeed. Beckham joined Madrid in 2003 when he was 28, five years older than Sneijder. On that basis, the Dutchman has plenty of time to improve – a frightening thought for Madrid's opponents. If, that is, he follows in the path of Cruyff rather than Kluivert.