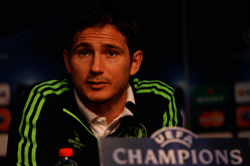 Gavin Beech is tipping Man United to finish the job against Chelsea in their Champions League quarter-final 2nd leg tonight…
Chelsea midfielder Frank Lampard teh club's owner Roman Abramovich deserves success in the Champions League as reward for the way in which he has transformed the club.
Chelsea have won three Premier League titles since the Russian bought the club in 2003, but success in Europe has eluded the London club.
Lampard told the Sun: "Everything I've achieved in the last 10 years has only been possible because of the owner's investment.
"I never envisaged that we would be winning league titles, competing in the Champions League and fighting on all fronts year after year so quickly. Everything changed when Mr Abramovich arrived in 2003. He has made a huge investment and we are all very thankful.
"I'd be very proud to win the Champions League for a lot of reasons but I definitely understand the thought process that we owe it to him to win it.
"He never sits us down and says 'You must win the Champions League, this is the main thing'. But we all know it would be a fantastic thing to him.
"And he deserves it for all that he has given to the club."
Chelsea need to overturn a one-goal deficit when they face Manchester United in the Champions League quarter-finals on Tuesday following a 1-0 defeat at Stamford Bridge.
Chelsea have endured a difficult season by their own high standards, but Lampard believes the players have rediscovered the form that they showed at the start of the current campaign.
"We started the season so well that no one saw what was coming next," he continued.
"We hit a brick wall and maybe we stopped doing the things which have made us so successful in the past. Whether that was down to over-confidence or whether we slacked off in training, it's hard to tell.
"When I came back from injury I sensed that training wasn't at the level it's back to now and we all have to look at the way we were preparing ourselves.
"As the manager says, we went to sleep for two months and now we've woken up and we're trying to make it another successful season.
"If that doesn't happen, we know we're going to get criticised because people have high expectations of Chelsea – and that's only right.
"We have to perform at our best and take faith from the way we've won at Old Trafford before. If we do that we're capable of going through to the semi-finals."
Gavin Beech is tipping Man United to finish the job against Chelsea in their Champions League quarter-final 2nd leg tonight…