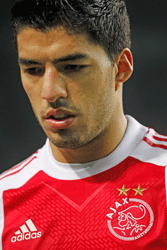 Arsenal v Ipswich: Dan Billinghurst gives his top betting tips for tonight's Carling Cup 2nd leg…
Ajax have told Liverpool to be 'more respectful' in their bid to sign striker Luis Suarez.
The Premier League club have been in negotiations with the Dutch side over the possible signing of the Uruguayan this month, with director of football strategy Damien Comolli recently travelling to Amsterdam to try and finalise a deal.
However, the two clubs remain far apart in their valuation of the 24-year-old and Ajax have now told Liverpool to get realistic with their offer or to look elsewhere.
"We'll have to wait for them [Liverpool] to come back with something more respectful," an Ajax spokesman said.
"We want to keep him – at least until the end of the season and preferably for the rest of his contract. If you compare the €15 million (£12.5 million) Liverpool want to pay for Suarez with other transfers you can imagine that it's far too low for us. Luis is our top goalscorer for the last three years and also the man with by far the most assists."
Ajax general director Rik van den Boog reportedly told Comolli on Monday that he would not even consider any offer of less than £25 million for the prolific forward.
Arsenal v Ipswich: Dan Billinghurst gives his top betting tips for tonight's Carling Cup 2nd leg…
Take advantage of the January sales by saving up to 36% on a subscription to World Soccer