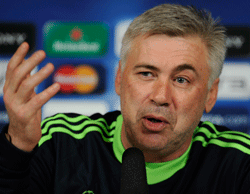 See the best odds on EVERY Europa League game this week in our dedicated betting centre….
Carlo Ancelotti insists he is happy with his Chelsea side despite failing to score in Wednesday's Champions League game against FC Copenhagen.
The Italian saw his side miss a number of chances in the goalless draw at Stamford Bridge, but the 2-0 victory in Denmark a fortnight ago was enough to see Chelsea reach the last eight.
"I think that we played a good game, we were focused and avoided risk and maintained a good control of the game," he said.
"We had a lot of opportunities to score, we were unlucky I think. We did not need to score tonight.
"It is important to create the situation and we created a lot of opportunities this evening. I am happy because apart from that it was good, the players showed a good attitude on the pitch.
"We wanted to move on from the last 16 and now we are in the quarter-final. I want to remind you that at this same time last year we were crying and now we are to be happy.
"I see that the team is fresh and in good condition and I want to rotate the players because all the players deserve to play and this is a good reason to do this."
Despite a number of difficult potential opponents, including favourites Barcelona and three Premier League sides, Ancelotti would not be drawn on who he would prefer to face in the next round.
"I don't want to say anything about this, we just have to wait and see," he added.
"Barcelona are a dangerous team but every team in the quarter-final is dangerous. We have to let the draw decide."
Despite the defeat, FC Copenhagen coach Stale Solbakken was proud of his side's performances over the course of this season's tournament.
"I can only congratulate Chelsea on going on in this tournament," he said. "They were the better team overall, and they also did well tonight, but I am proud of what we have achieved in this competition. We have played eight games, and we have played well in seven of them.
"The game at Parken [the first leg against Chelsea] was the performance we were not content with, but in general we have to realise that we were knocked out by a better team. However, it was a magnificent performance to get a goalless draw here.
"Our central defence was extremely strong, our goalkeeper did well and in general our display was very satisfying."
See the best odds on EVERY Europa League game this week in our dedicated betting centre….
Take advantage of the sales by saving up to 36% on a subscription to World Soccer