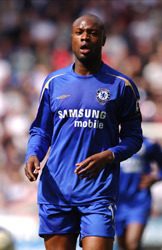 easyodds.com is the home of football betting. Click here for odds on every football match.
Arsenal have made an offer for Chelsea defender William Gallas, although any deal could be dependent upon Ashley Cole moving to Stamforsd Bridge in exchange.
Arsenal manager Arsene Wenger said Cole's departure remains "50/50".
"We are still in no man's land surrounding Cole's move," said Wenger. "I made an offer for William Gallas and that is how far we are.
"I am very keen to resolve all of this. I want the squad to be settled."
Arsenal and Chelsea have been involved in a lengthy battle for Cole, with Chelsea reportedly offering £20m but Arsenal holding out for £25m.
Last week Wenger said: "It is not true that we have turned any offer down.
"Chelsea have had June, July, August. Everybody says Chelsea are interested in buying Ashley Cole but they have had three months now to buy him."
Cole was omitted from Arsenal's squad for the Premiership opener against Aston Villa last Saturday despite making himself available for selection.
"We are ready" said Wenger last week. "From our part there's no problem. Why don't you ask Chelsea what the problem is? I don't know.
"It's also difficult for us. We have a player and we cannot really count on him. Is he with us or not?
"We have to sort this situation out quite quickly. The numbers are not so important for Chelsea. They just bought a player (Dutch defender Khalid Boulahrouz).
"This situation is not a money situation. We have not turned down an offer. The problem is not between us and Chelsea.
"He doesn't need to ask for a transfer because we gave him permission to leave when he extended his contract at the end of last season.
"He has permission to leave if a club come in and makes the right offer.
"If that doesn't happen the consequence will be that he will stay. If nobody gives us the right offer what can you do?"
easyodds.com is the home of football betting. Click here for odds on every football match.