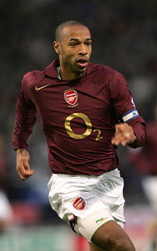 Arsenal managing director Keith Edelman believes talismanic skipper Thierry Henry will sign a new deal with the club.
Henry's current deal runs out in 2007 and Edelman says Champions League success would convince him him to stay.
"That would help," Edelman told BBC Radio 4 on Tuesday. "It is over 50% probability he will stay.
"We've got a new stadium to go to and we've got a great group of youngsters who show we're a team for the future. I think he will stay."
Henry has been linked with a move to Spain, with Barcelona reportedly leading the chase for his services.
Speculation has increased as Arsenal have suffered a poor run at the turn of the year, but in recent weeks their domestic form has improved and they are now favourites to finish fourth and claim a qualifying spot in the Champions League. They remain strong contenders in Europe and go into the second leg of their Champions League quarter-final with a 2-0 lead over Juventus.
"When he (Henry) sits down in the cold light of day we're a team for the future," Edelman added.
"I think Arsene has developed another great team and you're seeing it develop in front of your eyes. When you watch that and play with that it's very exciting."
Subscribe to World Soccer – The essential football magazine.