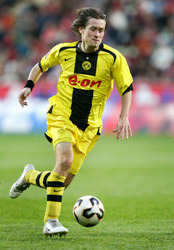 Arsenal have confirmed the signing of Tomas Rosicky from Borussia Dortmund for an undisclosed fee.
The Czech Republic international midfielder has joined from German club Borussia Dortmund on "a long-term contract for an undisclosed fee," the Arsenal website confirmed.
The 25-year-old said: "I'm really happy to be here at Arsenal, it is a great day for me.
"This is the best club in Europe and I will give everything," added Rosicky, who will join up with his new team after the World Cup."
He added: "The team showed their strength recently in the Champions League and have big potential with a lot of young players – I think we can be even better next season."
Gunners boss Arsene Wenger said: "We are delighted to welcome Tomas to our squad.
"He has great technique, skill on the ball and sharp passing.
"Tomas has good experience at all levels for club and country, and we look forward to welcoming him to Arsenal after what will hopefully be a successful summer for him at the World Cup."
He cost Dortmund £18m – a Bundesliga record – when he arrived from Sparta Prague in 2001.
Rosicky, who had been expected to join Spanish side Atletico Madrid, has scored 15 goals in 53 appearances for his country.