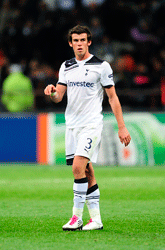 Spain are now a best price 7/2 for Euro 2012 following the latest round of qualification matches…
Gareth Bale has admitted that he would be happy to move abroad to play.
Tottenham's winger was talking to the Spanish media ahead of Spurs' Champions League first leg with Real Madrid on Tuesday.
Although he has just signed a new long-term contract at White Hart Lane, Bale he admits the thought of moving to the continent does not frighten him.
"You never know [what will happen] but I have no fear about leaving the country," he told AS.
"If there is a great opportunity then that has to be considered seriously.
"I left home when I was 15, if I leave the Premier League, learn another language and see another country then I will grow as a person."
Bale admits that ever since his hat-trick against Inter in the group stages of the Champions League, his name has been linked with a number of Europe's leading clubs.
"I try not to think about it, my team-mates joke a lot about it," he continued.
"I am playing the best football of my career with Tottenham, and it just seems like they are talking about someone else when people are talking about how much I would cost and who would sign me."
Bale admits that playing under Spurs boss Harry Redknapp is an enjoyable experience.
"Training with him is like playing in the street, he just wants us to play and that benefits the team," he said.
"Under Juande Ramos, he didn't speak good English and wanted things done his way, Harry allows us to express ourselves freely and that has what has led us to the level we are at now."
Bale has been struggling with a hamstring injury in recent weeks, but Spurs are ready to risk him in Madrid.
"We are looking forward to it, we know both teams can play," he added.
"They are a fantastic team, I have seen them almost every week for years – I love the Spanish League, but we know how to win."
Bale is looking forward to facing Cristiano Ronaldo, who has also been struggling with injury and is a doubt for the match.
"In the last six months I have become more of a regular and I have tried to simplify things and I have improved," he said.
"I see Cristiano, what he does – and sometimes a sideways pass is the best option.
"I see him, his power and speed, when I see him do things I am looking to repeat them."
Spain are now a best price 7/2 for Euro 2012 following the latest round of qualification matches…