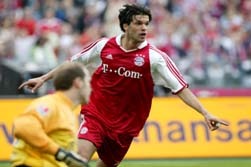 Germany captain Michael Ballack says he is in no hurry to decide where he will be playing football next season.
"I will decide when I feel like deciding," the 29-year-old midfielder told Sport-Bild newspaper.
"The fact is I can decide myself where I'll be from the summer of 2006."
Ballack's contract with Bayern Munich expires at the end of the season and he has been given a deadline until the end of March to decide whether or not he will stay with the German champions.
Bayern had offered him a lucrative extension but withdrew the deal late last year when Ballack said he had not made up his mind.
Subscribe to World Soccer – The essential football magazine