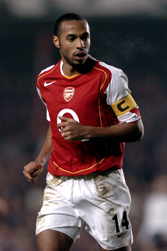 Barcelona coach Frank Rijkaard has confirmed he is interested in signing Arsenal striker Thierry Henry.
Spanish sources have claimed for a number of weeks that Barca were planning to launch a bid for the French forward.
Henry has repeatedly expressed his desire to stay at Arsenal but Barcelona intend to test his loyalty to the limit.
Asked about the possibility of signing Henry's team mate Patrick Vieira, Vieira, Rijkaard responded: "No, I am only interested in Henry."
Barca are reported to have already submitted a €24 million (£16 million) bid which was rejected out of hand earlier this month, but according to reports in the Spanish media, they intend to double their initial offer in the next few days.
But Arsenal are unlikely to allow their most important player, who with 25 goals last season, won the European Golden Shoe for the second successive year.
Arsenal boss Arsene Wenger said he is keen to keep the bulk of his squad together.
He told the club's website: "I have not planned to buy too many and to be busy would mean we were under tremendous stress to sell players, which we don't want to do."