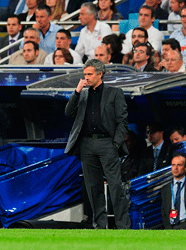 Wolves are now a best price 4/6 to be relegated after their 3-0 defeat to Stoke…
Barcelona have confirmed that they have asked their legal department to examine comments made by Real Madrid coach Jose Mourinho following their Champions League semi-final first-leg clash.
Barca won a bad-tempered encounter 2-0 at the Santiago Bernabeu, in a game which saw three red cards awarded.
Barcelona's substitute goalkeeper Jose Manuel Pinto was sent off at the interval as the two opposition benches came to blows going down the tunnel.
Then Pepe was sent off midway through the second half for a challenge on Dani Alves and that led to Mourinho being sent to the stands as he remonstrated with the officials.
Speaking after the match Mourinho raged at both Barca, the officials and UEFA.
He said: "It's clear that against Barcelona you have no chance.
"I don't know if it's the publicity of Unicef [the club's shirt sponsor], I don't know if it's because they are very nice, but they've got this power."
"I don't know if it's the friendship of [Spanish football federation president Angel Maria] Villar at Uefa, where he is vice-president.
"[Barcelona's Pep] Guardiola is a fantastic coach, but he's won one Champions League which I would be ashamed to win after the scandal at Stamford Bridge and this year, if he wins it again, it will be after the scandal at the Bernabeu.
"I hope that one day he will win a clean Champions League, with no incidents behind it."
Now Barca are considering whether to make an official complaint to UEFA.
Barca said on their website: "Barcelona's legal department will study the declarations made by Jose Mourinho to determine whether to refer them to Uefa.
"In the post-match press conference, Jose Mourinho severely criticised the referee (Wolfgang) Stark and insinuated that Uefa treated Barcelona favourably."
Wolves are now a best price 4/6 to be relegated after their 3-0 defeat to Stoke…