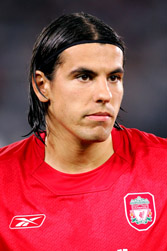 Liverpool striker Milan Baros has revealed that Wednesday's Champions League final could be his last game for the club.
The 23-year-old Czech striker is disappointed with his lack of playing time this season and admits his agent, Pavel Paska, will be in talks with other clubs over a move.
"I have had several offers from other clubs and it is now the job of my agent Pavel to talk to them," Baros told the Daily Mirror.
"Maybe I'll leave Anfield, maybe I'll stay. We'll listen to what is offered."
Baros, the leading scorer at Euro 2004, has made 44 appearances for Liverpool this season but has often been substituted.
Moreover, he faces a battle to keep his starting place in Istanbul with strong competition coming from fit-again striker Djibril Cisse.
Baros added: "I am calm about my future and I can concentrate fully on the Champions League final.
"But my main aim at the moment is that I can keep my place ahead of Cisse for the final against Milan, and I will do my best to make that happen."